Rugby Uniforms That Winners Will Love To Wear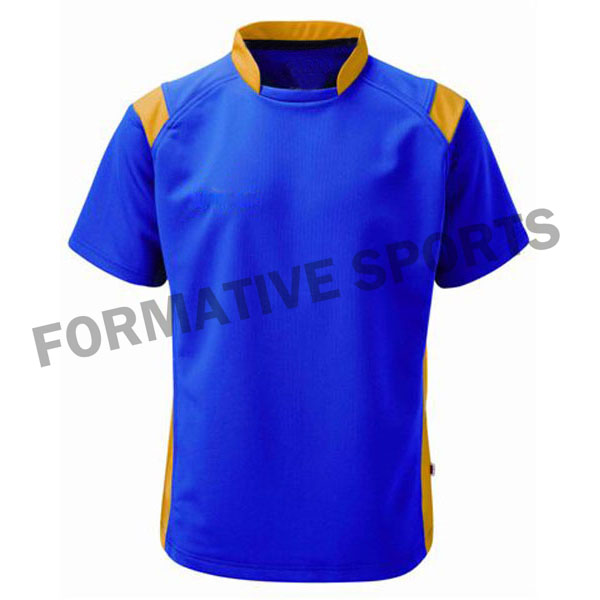 The game of Rugby is known for its unique set of rules and oval shaped balls. In this game, the player needs to pick up the ball and has to run quickly in order to score points for his team. The players also have the option to kick the ball in the goal post. Apart from its unique ball shape and playing pattern, another important part of this game is the Uniform. Like any other sporting event, it is mandatory for the players to sport the uniform.
Fortunately there is a comprehensive range of Rugby Jersey Manufacturers in the market. During earlier times, the players used to wear the uniforms made of cotton fabric as it was best suited for games that involved tremendous physical power. The players are required to kick, jump and run during the game and thus, comfortable and breathable clothing was needed in order to bring best performance.
But things have changed a lot in this scenario. These days, Custom Rugby Unifoms Manufacturers have developed their collection using the premium grade polyester fabric. Polyester is comfortable and also provides full flexibility to the players. Nowadays, customized collection is widely demanded by the players as well as the team. These collections, being created on demand, are best fit for all kinds of players. They are powered with special designs, created as per requirement of team and their clubs. Furthermore, they look elegant and also capable of providing unique shades to the players. These features help in providing distinct characteristic to the clubs.
How Effective is Printing Technology in Sports Uniform?
Sports uniforms are made by using sublimation printing technology for printing purposes on their uniforms. Under this technique, the motifs get embedded on the transferable paper firstly. After that, they get imprinted on to the fabric via pressure and heating techniques.