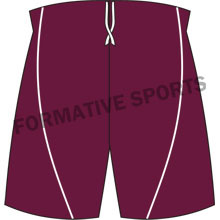 "Cut-and-sew" refers to the method of garment fabrication in which individual pieces of fabric are cut and stitched together. Formative Sports is committed to offering the best Cut and Sew Soccer Shorts in USA. Like other sports shorts, our soccer cut-and-sew shorts are made by stitching together various pieces of fabric to form a unique uniform.
Cut And Sew Soccer Shorts Manufacturers in USA
These shorts are made to keep the wearer dry and comfortable by absorbing sweat and allowing air to circulate. Common fabrics for this purpose include polyester and nylon. If you are looking for the most trusted Cut and Sew Soccer Shorts Manufacturers in USA, connect with Formative Sports. These customizable team shorts feature a wide range of options for fit, style, and color.
Cut N Sew Soccer Team Shorts Suppliers in Australia
Custom cut and sewn shorts have features unique to the sport, such as a relaxed fit that facilitates movement and make wearing and removing the shorts a breeze. There is a wide selection of colors and designs available for cut-and-sewn soccer shorts. We are the leading Cut N Sew Soccer Team Shorts Exporters in Australia.