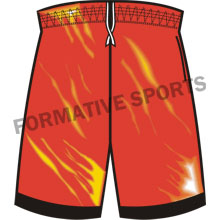 The materials we use to make our shorts are of the highest standard. Formative Sports is committed to providing the best Goalie Shorts in USA. Our tailors also use modern sewing methods to guarantee a flawless final product. We use sublimation printing technology to provide a variety of themes. We promise a fantastic range of options that can easily handle challenging playing conditions.
Goalie Shorts Manufacturers in USA
The goalie pants we provide to our dedicated customers are both affordable and fashionable. Our company is the reputed Goalie Shorts Manufacturers in USA. Our experts use state-of-the-art technological methods to guarantee that the pants are polished to perfection. Our shorts go through a series of quality checks to guarantee that they are of the highest quality.
Custom Sublimated Goalie Shorts Suppliers in Australia
For the best possible Goalie shorts, we use cutting-edge machinery. Due to our extensive background in the sports uniform industry, we can quickly design pants in a wide variety of colors, styles, logos, and sizes. We are the premium Goalie Shorts Exporters in Australia, providing our clients with the most fashionable and comfortable uniforms available.