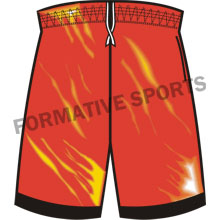 Goalie Shorts
Comfy Goalie Shorts: For Flexible Movement
The Goalie is always remembered by the moves and the goal stopping capability. The comfy fabric is very important to wear during the game as it widely influences the performance of the players during the game. We are offering an amazing collection of Goalie shorts that help the player to do their best during the game.
Formative Sports is highly appreciated in the global market as trusted Goalie Shorts Manufacturers. We are offering our collection in standard as well as in custom designs. You can browse the available standard range using the catalogue. In the custom designs, the collection is made as per the requirement of the teams & clubs. You just have to provide us the design requirement of your team and our designers will create a whole new range for your team that manifests the passion.
Sublimation Goalie Shorts: That Meets Your Expectations
We use sublimation printing strategy while manufacturing our selection. This is certainly an amazing printing technology in which helps in offering flawless finishing to the products. Apart from this, the motifs created in this have enough durability to withstand tough playing conditions.
Custom Sublimated Goalie Shorts Suppliers & Exporters
Formative Sports is leading Custom Sublimated Goalie Shorts Suppliers & Exporters. We are proudly serving our products in Australia, UK, USA, France, Italy & several other countries. The teams, clubs, promotional buyers and retailers should contact us to get our products. We ensure timely delivery of your consignment.
Features of Goalie Shorts:
Breathable fabric
Ensure perfect fitting
Cut & sew
Sublimation form
Comfortable to wear
Shrink resistance
Easy washable
Perfectly stitched