Basketball Uniforms Elegantly Crafted In Custom Sublimated Designs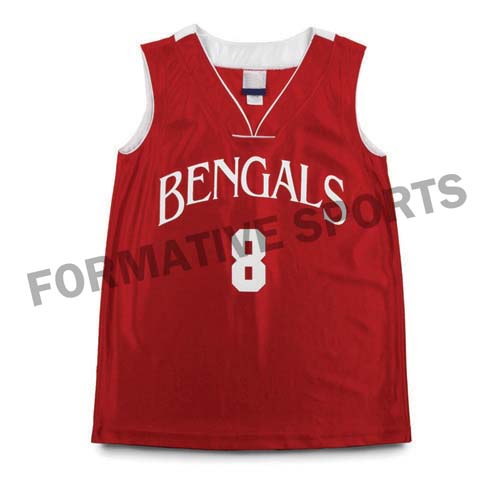 We all love to play and watch the game of basketball. This game has gained huge recognition across the globe having millions of fans. The most important part of this game is its uniforms. It is mandatory for the players to wear the team outfit while playing the game. With the evolution of new fashion trends, the designing of the sportswear has also changed drastically.
The basketball uniforms manufacturers are bringing forth the exclusive range of outfits in order to meet the demands of the teams, clubs and players. Nowadays, the designers create outfits rich in texture and patterns in order to give their collections a whole new look. The collections are provided with the motifs like stripes, layouts, and patterns. Moreover, they also use varied color combinations in order to make the collection more appealing.
Off late, the teams, players, and clubs show significant interest in the custom basketball uniforms. Let me define first, what the term custom means. This is used for the made to order collection. In this, the collections are created as per the requirements of the teams and clubs. They provide the design related specifications according to which the artists craft the collections. Some of the essential features which make these collections more popular are the team name, logo, player name, etc. These attributes help in providing the unique identity to the players. Moreover, these collections help a lot in popularizing the club across the neighboring areas.
Nowadays, the basketball uniforms manufacturers are putting their best efforts in order to offer brilliant quality collections. For this, they are using sublimation printing technique. This is a better technology as compared to screen printing technology. This is a versatile printing technique in which the motifs which are created using the software tools get directly imprinted on the fabric using industrial pressure and heating. This printing technology helps in providing long-lasting and highly durable designs which have the ability to withstand tough playing conditions.
Tips which one should keep in mind while wearing basketball uniforms.
Fabric
The players have to run, move, jump and have to perform lots of physical activities during the game. All they need is a comfy fabric. So, it is recommended by the ex-players to use team uniforms which are crafted in the polyester fabric. This is a skin-friendly fabric which provides maximum flexibility to the players during the game.
Fitting
Buy the uniforms from the manufacturers who use advanced tailoring equipment while manufacturing their products. The use of advanced equipment ensures durability, reliability & seamless finish in the outfits.
So, it is recommended that you should buy from basketball suppliers. The reason for this is that they offer their range at competitive rates.
Formative Sports is counted among the leading basketball uniforms manufacturers.Offering custom basketball jerseys. Contact us to get our range at competitive rates.