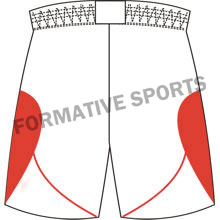 Basketball Shorts

Custom Basketball Shorts Manufacturers: Unlimited Designs To Cater Your Requirement
Formative Sports is offering exclusive range of basketball shorts. The designing procedure involves initial design phase, matching up team colors, sublimation and sewing so that you get outstanding quality from our side. Our range is manufactured at our production house where our designing team applies knowledge, skills and experience in conjunction with latest fashion trends to give your players a wow look. Being foremost Basketball Shorts Manufacturers, we understand the demands of the players and provide them reliable solution.

Excellent Quality Basketball Shorts Guaranteed
We give you a variety of materials from Sports Mesh to Polyester Micro fiber. We just utilize top quality materials that provide outstanding clean and wear and are blur safe. As the whole outline and fabricate process happens at our production facility, we can ensure that we accomplish the most popular top quality consistently. This implies we can promise our quality and realize that you'll be as content with your ball shorts as all our different clients.