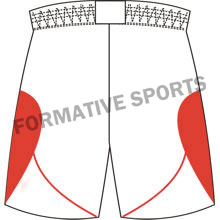 At Formative Sports, we understand the importance of high-quality basketball shorts in ensuring that players feel comfortable and perform at their best on the court. That is why we specialize in top-quality Basketball Shorts in USA that are both functional and fashionable.
Basketball Shorts Manufacturers in USA
We use the latest technology and materials to create basketball shorts that are both durable and stylish, allowing players to feel confident and look great on the court. Our Basketball Shorts Manufacturers in USA are designed to provide optimal performance and comfort to players, and they are available in a range of sizes, colors, and materials to suit the needs of different teams and players. As a leading sports equipment and accessories, we offer custom design services that allow our customers to create unique basketball shorts that reflect their team's identity and personality.
Custom Basketball Team Shorts Suppliers in Australia
Our team of experienced professionals works closely with our customers to ensure that their basketball shorts meet their expectations. At Formative Sports, we are committed to providing high-quality Custom Basketball Team Shorts Exporters in Australia and accessories at competitive prices. We offer fast and reliable shipping and easy returns, making it easy for our customers to get the products they need. Whether you are an individual player or a basketball team, we have the perfect basketball shorts for you.