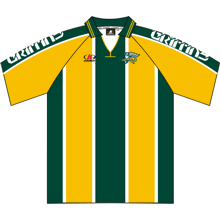 Soccer Jersey
Looking for custom soccer jerseys, then Formative Sports is one stop destination for all your requirements. Nowadays, every player loves to wear outfits which perfectly manifest the identity. We understand this requirement and create collection as per your requirements. In such collections, we provide notable features in the form of logo, team name, player name, etc.
Formative Sports is a world leading Soccer Jersey Manufacturers from Pakistan. We are remembered for introducing most stylish jerseys at your price. We provide a broad range of soccer uniforms with varying sizes, colors, designs, shadings, etc.
The increasing popularity of the 'Soccer' play has advanced the dressing trends. Old tradition of wearing white jerseys has been totally outdated.
With increasing market demands, our team works relentlessly to create, innovate, and improve our products to offer you the best fashionable body-friendly Soccer Jerseys. If you require customized Soccer Jersey with distinct features, you can place your order to us. As we are a bulk manufacturer, we will provide you uniform at lower prices.
The complete processing and product of the products take place at our in-house manufacturing facility. Our competent workforce put a strict vigil during production and also done quality testing prior to dispatch. The interested clients should submit enquiry to get our products. We are capable of entertaining bulk requisites of the clients. As reputed custom soccer team jerseys suppliers, we are offering our range at affordable rates.
Soccer, the most demanding game, involves tremendous physical agility. The players but for sure need comfy outfits. Our range is specially manufactured with the combination of attractive designs and comfy fabric. Not only the players look great but also they feel great. Putting on our gears will help in enhancing the performance of the players. Moreover, the use of advanced machinery also helps in providing seamless finishing in our range.