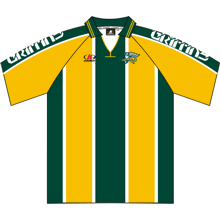 Formative Sports is well-known for their soccer jerseys, many of which are made from breathable, sweat-wicking material that ensures players remain dry and comfortable on the field. We are committed to providing the best Soccer Jerseys in USA. Our collection is more trendy and comfortable. Our garments are fabricated to allow for ease of movement and comfort.
Soccer Jersey Manufacturers in USA
Our high-quality products are the result of in-house preparation at our manufacturing facilities. With our dedication to quality and client satisfaction, Formative Sports has established itself as a reliable and renowned Soccer Jersey Manufacturers in USA. For the sake of player comfort and mobility on the field, we employ some of the finest materials available.
Custom Soccer Team Jerseys Suppliers in Australia
Our jerseys are available in a wide range of sizes and styles, from extra small to extra large. In addition, we ship everything out as quickly and securely as possible. We are a premium Soccer Jersey Exporters in Australia. Our products are guaranteed to arrive on time thanks to the superior materials used in the packaging.