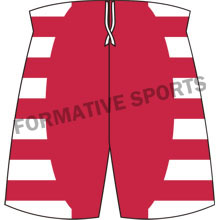 Soccer Shorts
Formative Sports is a renowned Soccer Shorts Manufacturers from Pakistan. As an industry giant, we stick in consumer memory for introducing new stylish shorts with fine fabrics and stitches at the market fair.
We have expertise in manufacturing soccer shorts, and as we are a bulk manufacturer, we can cater your order at very reasonable price with finishing touch. We have developed an ecosystem where consumer can become our designer; our expert designers as well as other manufacturing professionals will grasp you imaginative soccer shorts and will develop the same.
Our manufacturing professionals love to innovate, create, and improve our products so that we can offer you the latest sports dresses. We are feeling appreciated on the increasing global demand of our sublimated soccer shorts.
These are available in various colours, sizes, prints, designs & patterns that have attracted various players. We also have customized facility where these shorts are designed according to client's preferences. Our Youth Sublimated Soccer Shorts are highly appreciated by clients all over the globe.
We manufacture our range using finest quality polyester fabric. The game of soccer involves lots of physical exertion. The players have to run, jump, move to and from, for more than 90 minutes. All they need is the comfy outfits to give their best performance. To offer best quality comfy outfit, we use premium grade polyester fabric to manufacture our range.
Most of the team demands for the custom soccer shots. We are specialized in providing the customized range of designs. All you need is to provide us the designing specifications and our designers will create designs accordingly. Our team uses advanced equipment of tailoring during production to ensure that seamless finishing in our products.