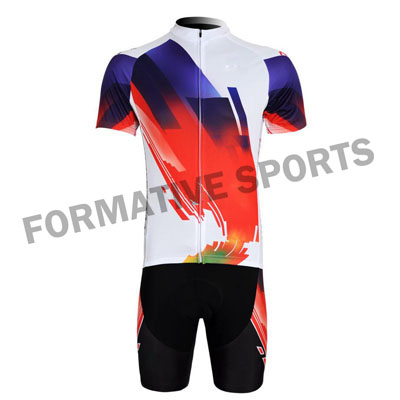 Cycling suits are an essential piece of cycling apparel that provide cyclists with comfort, support and aerodynamics. Formative Sports is a leading high-quality Cycling Suits in USA designed to meet the specific needs of cyclists.
Cycling Suits Manufacturers in USA
Our cycling suits are made from a variety of materials such as polyester, spandex, and Lycra, which are breathable, moisture-wicking, and stretchable, providing cyclists with optimal comfort and flexibility. We offer a wide range of Cycling Suits Manufacturers in USA that come in different styles, designs, and colors. Our suits are designed to fit snugly to the body, providing support and reducing drag, thereby improving the cyclist's performance.
Custom Cycling Suits Suppliers in Australia
Our expert design team works closely with clients to ensure that their vision is transformed into reality. Our commitment to quality, reliability, and innovation has made us one of the most trusted Custom Cycling Suits Exporters in Australia. We are dedicated to providing our clients with exceptional service, quality products, and on-time delivery. Contact us today to learn more about our cycling suits and other cycling apparel.