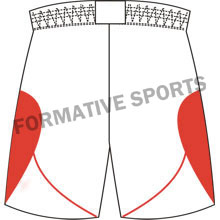 Cut And Sew Basketball Shorts

Give Your 100 % On the Field With Our Cut And Sew Basketball Shorts
Gone of the days, when players wore the dull and unattractive range of basketball shorts. This is an era of fashion. Your looks reflect your confidence level and abilities. We are putting forward the amazing range that not only offers your team an awesome appearance but also provides flexibility while playing.
We are one of the most trusted Cut And Sew Basketball Shorts Manufacturers across the globe. We are offering our collection in standard as well as in custom designs. Provide us the specifications of the teams and we will create the collection as per your specifications.

Cut And Sew Basketball Shorts Manufacturers
Quality & comfort is our primary objective. That's why, our competent team uses excellent quality fabric while developing our collection. This ensures comfort for the players during the game. Moreover, we have a well-established infrastructure facility. It is loaded with cutting edge technology and machinery. Our tailoring team employs advanced equipment of cutting, stitching and tailoring during production in order to offer flawless finishing in our products.