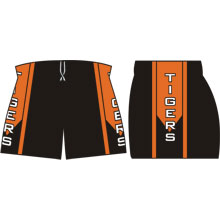 AFL Shorts
Scoring Has Become Easy With Our Customized AFL Shorts
We are known in the business industry for making an elite spectrum variety of shorts. The game contains tremendous physical deftness. Keeping this in mind, we are placing forth the selection that can give gamers complete convenience and flexibility during the game. Put forth a powerful attempt with our great selection and become invincible. We are upheld by the in-house outlining team, which will make a customized variety according to your requirements.
Being foremost AFL Shorts Manufacturers, we can design collections having notable attributes like the team name, team logo and player name. We can provide customization as to any extend. Our fascinating collection will ensure that your players do not just look great, but also perform well.
Sublimated AFL Shorts
Our team utilizes innovative technology while making our range. We utilize sublimation printing technology which is considered as the new age printing technique. This innovation helps us in giving superior quality prints on the fabric. The transferable paper is utilized as a part of this alongside industrial pressure and heating technique so as to offer durable and reliable sublimated AFL Shorts.