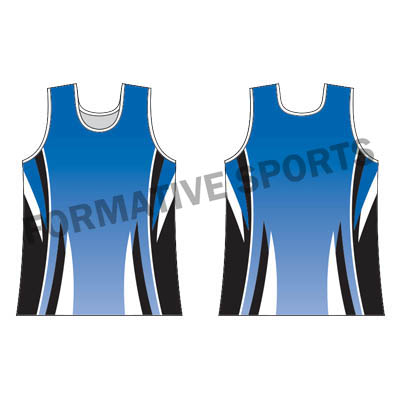 Formative Sports focuses on the design and implementation of high-quality sublimated singlets for sports teams, fitness enthusiasts, and promotional events. We offer the highest quality Sublimated Singlets in USA. Our singlets are made of high-quality fabric that is lightweight, breathable, and moisture-wicking, keeping you comfortable and cool throughout strenuous physical activity. We use advanced sublimation printing technology to create vibrant, long-lasting designs that won't fade or peel.
Sublimated Singlets Manufacturers in USA
Our singlets are frequently designed of breathable and light materials to keep players comfortable as they perform. We are the premier Sublimated Singlets Manufacturers in USA. To make players more identifiable to spectators, officials, and teammates, our sublimated singlets additionally carry a player's name and number. Customers can choose from our excellent variety of both regular and customized styles.
Customized Sublimated Singlets Suppliers in Australia
Our high-quality sublimated singlets are reviewed with several quality inspections to ensure that the uniforms are of the finest quality. We are responsible for ensuring that these sublimated singlets arrive on time. Formative Sports is the prime Customized Sublimated Singlets Exporters in Australia. Our singlets are made and personalized to satisfy the sportswear needs of each customer.