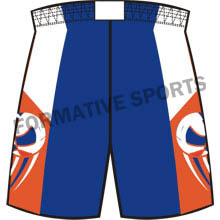 Sublimated basketball shorts are a popular choice for basketball teams and players, as We offer a unique and customizable design that stands out on the court. At Formative Sports, we are a leading Sublimated Basketball Shorts in USA, offering high-quality products that are both functional and fashionable.
Sublimated Basketball Shorts Manufacturers in USA
We offer a wide range of designs, colors, and sizes to suit the needs of different teams and players, and we also offer custom design services that allow our customers to create unique shorts that reflect their team's identity and personality. Our Sublimated Basketball Shorts Manufacturers in USA are designed using the latest technology and materials, ensuring that they are comfortable, flexible, and durable.
Custom Sublimation Team Shorts Suppliers in Australia
At Formative Sports, we use a sublimation printing process to create our basketball shorts, which ensures that the design is fully integrated into the fabric, resulting in a high-quality finish that lasts longer and does not fade or peel. Our experienced professionals work closely with our Custom Sublimation Team Shorts Exporters in Australia to ensure that their sublimated basketball shorts meet their expectations, and we offer fast and reliable shipping to ensure that our customers receive their products on time.