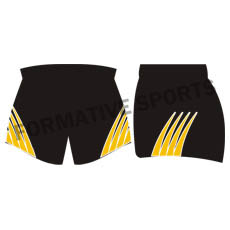 Sublimated hockey shorts have become increasingly popular in recent years due to their high-quality performance and unique design capabilities. As a Sublimated Hockey Shorts in USA, Formative Sports is well-equipped to provide high-quality sublimated hockey shorts that meet the needs of hockey players at all levels.
Sublimated Hockey Shorts Manufacturers in USA
Sublimation printing allows for vibrant, full-color designs that will not fade or peel over time. This printing technique also allows for the inclusion of logos, text, and other designs directly into the fabric, rather than being applied through traditional screen printing or heat press methods. This ensures that the design will last as long as the shorts do. Our Sublimated Hockey Shorts Manufacturers in USA are made from high-quality materials that are designed to wick moisture away from the body, keeping players cool and dry during even the most intense games.
Sublimation Hockey Team Shorts Suppliers in Australia
We also offer a variety of customizable options, including waistband and drawstring color, pocket placement, and more. As a leading Sublimation Hockey Team Shorts Exporters in Australia, Formative Sports is committed to providing our customers with high-quality, affordable products that meet their unique needs. Whether you are a professional hockey player or a member of a recreational league, our sublimated hockey shorts are a great choice for your team.