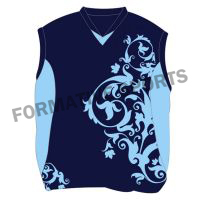 Formative Sports is a leading T20 cricket sweaters, providing high-quality customized sweaters that offer comfort, style, and functionality. Our T20 Cricket Sweaters in USA are designed using the latest technology and materials, ensuring that players stay warm and comfortable during cold weather conditions.
T20 Cricket Sweaters Manufacturers in USA
Our sweaters are designed to withstand the harsh outdoor conditions, providing durability and allowing players to focus on their game without worrying about the weather. We offer a wide range of T20 Cricket Sweaters Manufacturers in USA, available in different designs, colors, and sizes, suitable for both junior and senior players. We use techniques such as embroidery, screen printing, and heat transfer to apply logos, text, and other designs to the sweaters, creating a unique and personalized look for the team.
CustomT20 Cricket Team Sweater Suppliers in Australia
We are committed to providing high-quality products to our customers, and our T20 cricket sweaters are made using the finest materials and technology, ensuring that they meet the needs and demands of cricket players. Our CustomT20 Cricket Team Sweater Exporters in Australia are trusted by sports enthusiasts worldwide, and we strive to provide exceptional customer service and satisfaction.