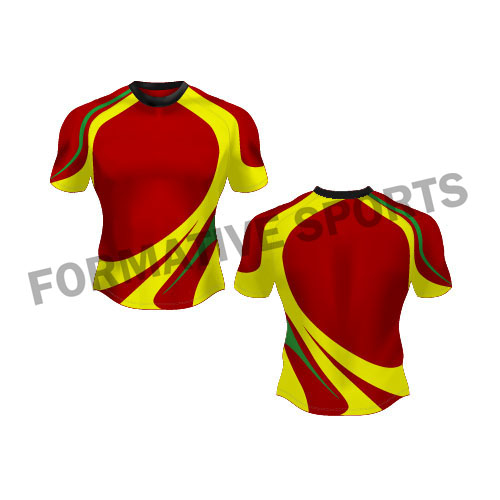 Rugby Jersey
Rugby Jersey: Create Your Own Designs
Rugby is the considered as the most popular sporting event. It is basically a form of uniform which is played with full pomp and joy in various countries across the world. The game is well known for the physical activities. Having vast industry experience in the sports industry, we fully understand this point. Thus, we create rugby jerseys in excellent quality fabric. Our competent team uses high grade polyester fabric which is considered as the skin-friendly fabric. Moreover, this outfits created in this fabric range offer tremendous flexibility to the players during the game so that they can offer their best of performance.
Formative Sports is in the list of the most trending Rugby Jersey Manufacturers from Pakistan. We are relentless in producing and supplying the latest sportswear on the market surface. We use premium grade fabrics to assure that we are providing body friendly rugby jerseys. In addition Formative Sports distinguished in market for giving 100% consumer satisfaction. As a bulk manufacturer, we work with the nuclear option to present sportswear very lower price.
We are backed by the most advanced manufacturing facility. Not only we use advanced tailoring equipment but also use sublimation printing technology for that purpose. These things help in providing the best quality products to our clients. Moreover, we strive for maintaining international quality standards in our products. To ensure this, we do thorough quality testing of our collections on various quality scales.
The interested clients are requested to send us enquiry related to the products. As notable custom rugby jerseys wholesale suppliers, we are offering our range at most competitive rates.
We manufacture rugby jerseys using advanced equipment of tailoring. With this, we try to provide seamless finishing in our range. More importantly, with this, we try to offer durability and reliability in our products. We do have our own quality maintenance cell. Here, we thoroughly test our products on various parameters. This helps us in maintaining international quality standards in our products.
Sublimated Rugby Team Jerseys: Created Using Amazing Technology
Our complete collection of custom rugby team jerseys are designed at our production facility. Our team creates the collection using sublimation technology that helps in providing durable patterns on the fabric. In this technology, the motifs get directly imprinted on the fabric using transferable paper.
We used superb quality polyester fabric that ensures full comfort to the players. The use of the advanced machinery of cutting & sewing help in providing flawless finishing to the stuff.
We are committed to provide best quality range to our esteemed clients. To ensure this, we produce our collection using superb quality fabric. Some of the finest range which we use to manufacture our collection includes polyester, eyebird, aerolite, etc. The fabric range provides full comfort to the players during the game. This game certainly involves tremendous physical exertion. So, our comfy range helps in providing flexibility and comfort to players during the game.