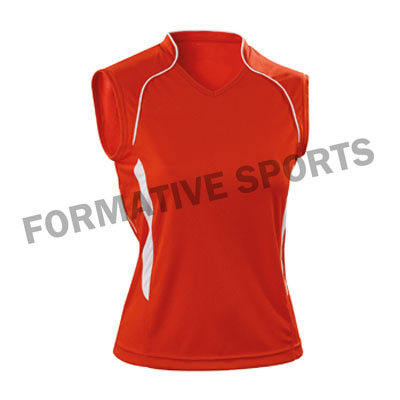 The singlets that are offered for volleyball are part of the uniforms that players wear them while competing in games. Formative Sports is committed to offering the best Volleyball Singlets in USA. On the volleyball court, the primary function of singlets is to facilitate the identification of players and the teams for which they play.
Volleyball Singlets Manufacturers in USA
The lightweight, breathable materials used to make these singlets serve the important function of keeping the players cool and dry. Our company is the leading Volleyball Singlets Manufacturers in USA. Our singlets may also feature a player's name and number, which makes it simpler for fans, referees, and teammates to identify the wearer. Our lovely collection is offered to our customers in both its standard and their own customized designs.
Custom Volleyball Team Singlet Suppliers in Australia
The high-quality singlets are put through a number of quality checks in order to ensure that they are of the highest possible standard. We are responsible for ensuring that these singlets are delivered on time. You can get in touch with us if you are looking for the most dependable Custom Volleyball Team Singlets Exporters in Australia.