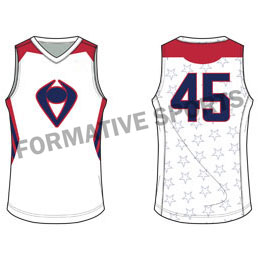 Volleyball uniforms are typically constructed from wicking, breathable fabrics to keep athletes dry and comfortable. Formative Sports is committed to providing the best Volleyball Uniforms in USA. The uniforms we provide are designed to be comfy and functional. Volleyball uniforms are designed to help players play their best by maximizing their comfort, mobility, and performance.
Volleyball Uniforms Manufacturers in USA
Our high-quality, long-lasting fabric is not only breathable but also soft and lightweight. Our dedication to providing excellent service and high-quality products has helped us earn a reputation as a leading Volleyball Uniform Manufacturers in USA. We have a wide selection of uniform styles and colors to choose from, and we can also tailor uniforms to your team's specifications.
Custom Volleyball Team Uniform Suppliers in Australia
We stock a wide variety of volleyball uniforms tailored to the specific requirements of various teams. High-quality, breathable, and long-lasting fabric is used to make our uniforms. Our company is a premium Custom Volleyball Team Uniform Exporters in Australia. We also provide options for personalization, which gives teams the freedom to create uniforms that are truly special to them.