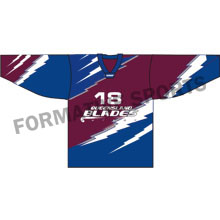 A goalie jersey is an essential part of any hockey goalie's equipment. It is a specialized type of jersey designed to provide protection and enhance mobility for the goalie. The Goalie Jersey in USA is typically made with thicker padding and reinforced stitching to protect the player from the impact of pucks and sticks during gameplay.
Goalie Jersey Manufacturers in USA
Our jerseys are made from premium quality materials that offer superior comfort and durability to the players. Formative Sports is a leading high-quality Goalie Jersey Manufacturers in USA. We have a wide range of goalie jerseys available in different styles, colors, and sizes to cater to the specific needs of our customers. Our sublimated goalie jerseys are a popular choice among hockey players as We offer unmatched design flexibility and customization options.
Custom Sublimated Goalie Jerseys Suppliers in Australia
We use advanced printing techniques to create unique designs that are sure to turn heads on the ice. Whether you are a professional hockey player or a recreational player, you can trust Formative Sports to provide you with high-quality Custom Sublimated Goalie Jerseys Exporters in Australia that will enhance your performance and keep you protected on the ice. We offer competitive pricing, fast turnaround times, and exceptional customer service to ensure a seamless experience for our clients.