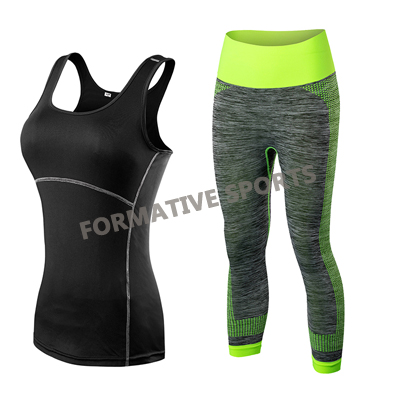 Formative Sports has a comprehensive selection of fitness clothing to meet the needs of fitness enthusiasts. Our Womens Fitness Clothing in USA is designed to provide maximum comfort and support, allowing you to perform at your peak. Women's fitness leggings, sports bras, tank tops, shorts, and other items are available. Our fitness apparel is ideal for all of your fitness activities.
Womens Fitness Clothing Manufacturers in USA
We employ textiles of the highest caliber that are soft, permeable, and flexible. Our workout attire is made to be both flexible and comfortable at the same time for you. We are a reputable Womens Fitness Clothing Manufacturers in USA, and are aware of the value of both performance and quality.
Custom Womens Fitness Clothing Suppliers in Australia
To meet the various needs of women of all ages, our fitness clothing is offered in a wide range of sizes, shades, and styles. We take satisfaction in shipping our fitness clothing to clients around the world and are known as the top-notch Custom Womens Fitness Clothing Exporters in Australia. You can be confident that Formative Sports will provide you with high-quality workout apparel that is strong, long-lasting, and offers exceptional value for your money.