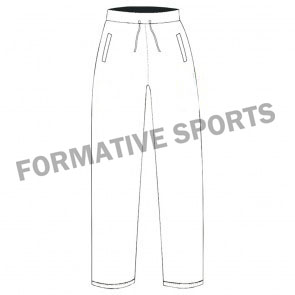 Cricket Trousers
Cricket Trousers Manufacturers: Comfort, Shade & Class
Cricket involves tremendous physical agility. It is mandatory to wear comfy fabric in order to run, dive and score. We are offering the awesome collection of cricket uniforms that are widely appreciated among the team for their appealing looks & comforts. Our complete range is available for test cricket as well as for ODI and T-20 format. Being reputed Cricket Trousers Manufacturers, our complete range is available in standard as well as in customized shades.
We are experienced in customization. Give us your requirement related to the designs and shades. With our knowledge, experience and skills, we will create the collections as per your specifications. Owing to our innovative methods of designing, we are capable of meeting all the needs of your team.
Sublimated Cricket Trousers: Designed With Passion
We use sublimated technology while creating our collections. This is a new age technology that helps in providing impressive motifs to the collection. The sublimated ink is first melted and then it is used with the transferable paper in order to create designs and patterns on the collection. Moreover, the imprinted designs are considered as highly durable in context to play in the tough conditions.
Our sublimated cricket trousers are manufactured at our in-house factory. This is being done to keep worldwide quality standards in our products. Our manufacturing house is fully filled with state of the art machinery. This allows our tailoring unit to offer seamless finishing in our outfits range.