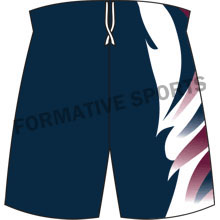 Sublimation soccer shorts are made by printing the design onto a heat- and pressure-sensitive special paper, which is then transferred onto the fabric. This process leaves a print that is not only long-lasting but also resistant to fading and peeling. Formative Sports is committed to providing the best Sublimation Soccer Shorts in USA. Our shorts are made of a lightweight, stretchy material that allows for complete freedom of movement.
Sublimated Soccer Shorts Manufacturers in USA
Our shorts are made to offer the highest levels of comfort and mobility possible, allowing you to play to your full potential during each and every game. Our company is the top Sublimated Soccer Shorts Manufacturers in USA. We take immense satisfaction in providing products that are of the very best quality.
Sublimated Soccer Team Shorts Suppliers in Australia
Our shorts come in sizes ranging from small to extra-large and feature a wide variety of patterns and designs to choose from. We also take extra precautions to ensure the safety and security of your order during transit. If you're looking for a way to make your team stand out, look no further than our company as we are the leading Sublimation Soccer Team Shorts Exporter in Australia.