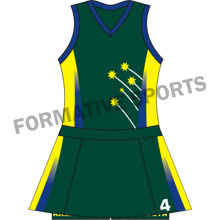 They understand the importance of comfortable and functional uniforms that can enhance the performance of players on the field. Formative Sports is a leading Women Hockey Uniforms in USA. That is why We offer a wide range of options for women's hockey uniforms that cater to different preferences and requirements.
Women Hockey Uniforms Manufacturers in USA
They are also available in both sublimated and cut and sew options. The women's hockey uniforms at Formative Sports are made with high-quality Women Hockey Uniforms Manufacturers in USA. Sublimated uniforms offer unlimited design possibilities with vibrant and long-lasting colors that won't fade or peel, while cut and sew uniforms provide a more traditional look and feel with customizable options.
Women Hockey Team Uniform Suppliers in Australia
Formative Sports also offers custom team logos, player names, and numbers, so teams can represent their brand and identity on the field. With Formative Sports as your supplier, you can rest assured that you will receive top-quality Women Hockey Team Uniform Exporters in Australia that meet your needs and exceed your expectations. Their commitment to excellence and customer satisfaction has made them a trusted name in the industry.