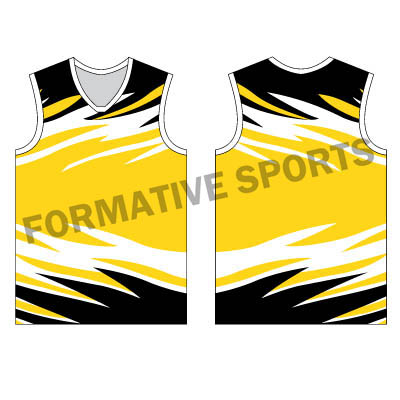 Formative Sports specializes in the design and manufacture of high-quality singlets for sports teams, fitness enthusiasts, and promotional events. We provide the finest quality Singlets in USA. Our singlets are composed of high-quality fabric that is lightweight, breathable, and moisture-wicking, allowing you to stay comfortable and cool throughout hard physical activity. We strive to give our customers the greatest experience possible, and we take great care to ensure that our items match international quality standards.
Singlets Manufacturers in USA
Our singlets are designed to make athletes comfortable as they compete, and they are often made of lightweight and breathable materials. Our organization is the premier Singlets Manufacturers in USA. Our singlets may also include a player's name and number to help fans, referees, and teammates identify the wearer. Our wonderful selection is available to our customers in both standard and bespoke styles.
Customized Singlets Suppliers in Australia
Our high-grade singlets are subjected to a series of quality inspections to ensure that the uniforms are of the highest possible quality. We are in charge of guaranteeing that these singlets arrive on schedule. If you are looking for the best Customized Singlets Exporters in Australia, contact Formative Sports. Our singlets are designed and personalized to meet the sportswear needs of each consumer.