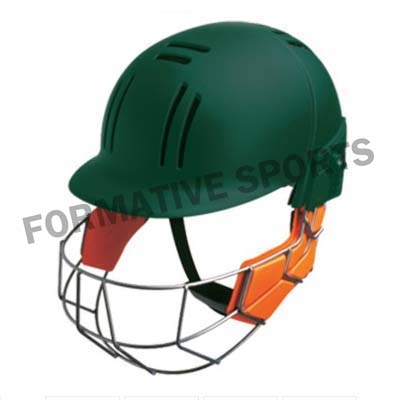 A cricket helmet is an essential piece of protective equipment that all cricket players are required to wear, but it is especially important for players who bat or field close to the wicket. Our high-quality Cricket Helmets in USA offer protection to the head and face from flying debris, cricket balls that can travel at high speeds, and accidental collisions with other players.
Cricket Helmet Manufacturers in USA
Formative Sports provide cricket helmets that are constructed from high-quality materials and are designed to adhere to the sport's safety regulations. As the foremost Cricket Helmet Manufacturers in USA, we stock a comprehensive selection of high-quality helmets for cricket players, each of which is created to offer the player the utmost in comfort and protection.
Custom Cricket Helmet Suppliers in Australia
Our Cricket helmets are available in a wide range of sizes, colors, and designs to suit your needs. Each helmet is handcrafted to order and tested multiple times to ensure quality before being sent out to a customer. We are the leading Cricket Helmet Exporters in Australia. We offer low prices and first-rate support to guarantee that every one of our clients is completely content with our services.