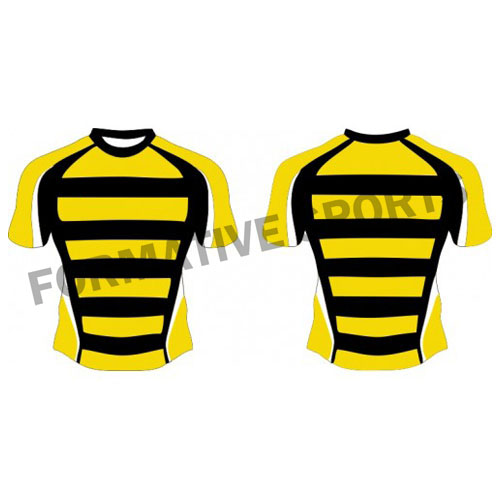 Sublimated Rugby Jersey
Sublimated Rugby Jersey – The Awesome Patterns & Colors
We are offering the fantastic collection of custom rugby jerseys. Our complete range of collection is available in standard as well as in custom designs. The good outfit is certainly essential for better performance on the ground by the player as it helps in boosting the confidence level of the players.
Formative Sports comes in the league of leading Sublimated Rugby Jersey Manufacturers. With huge industrial experience and competent team of designers, we are capable of providing full customization to the collection. You just provide us the specifications related to design & our designing team will give your team brand new colors.
Custom Sublimation Rugby Team Jerseys
Our range is done at our manufacturing house. This guarantees the finest top quality in our products. We manufacture our collection using the finest top quality fabric in order to provide full versatility & comfort to the players during the game. Moreover, the designs are particularly created on the material with the help of the sublimation technology. During the procedure, the special ink is used with the help of the industrial pressure & heating to create motifs. These elements are highly resilient and can easily hold up against tough playing conditions.
Global Rugby Jerseys Suppliers & Exporters
We are proud Global Rugby Jerseys Suppliers & Exporters from Pakistan. Owing to our advanced manufacturing facility, we are capable of entertaining bulk requirements of the teams and clubs of the colleges & universities. The retailers and promotional buyers should also contact us to get our products. We are committed to entertain your orders in stipulated time frame.
Features Of Sublimated Rugby Jersey:
Vibrant colours
Available in all sizes
Customized designs
Sublimated form
Quality fabric
Sweat absorbent