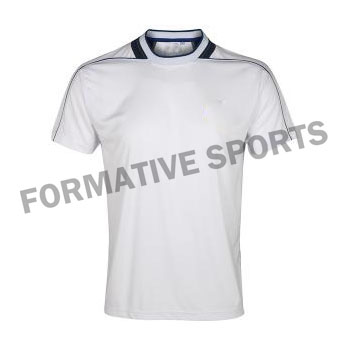 Formative Sports offers an extensive selection of t-shirts including branded t-shirts, personalized t-shirts, collar t-shirts, V-neck t-shirts, and much more. We provide high-quality T-Shirts in USA. Our t-shirts also have a colorful customized texture, and high-quality cotton material, and are breathable, sweat-absorbing, and long-lasting. Contact our services and place a bulk order with our team.
T-Shirts Manufacturers in USA
We are one of the well-known and reputable companies with several years of experience in this field. We are the best T-Shirt Manufacturers in USA. Our goal is to never compromise product quality and to provide exact client-centric services at the most affordable prices. We have a team of competent personnel who are constantly working to meet our clients' needs in the best way possible.
Custom T-Shirts Suppliers in Australia
We offer custom t-shirts for your company at affordable prices. We use advanced printing techniques to ensure that your designs come out looking sharp and vibrant. Our fast and reliable delivery service ensures that your order will be delivered right to your doorstep in no time. Contact us the premier Custom T-Shirts Exporters in Australia, to get started on creating custom t-shirts for your company that will make a lasting impression.