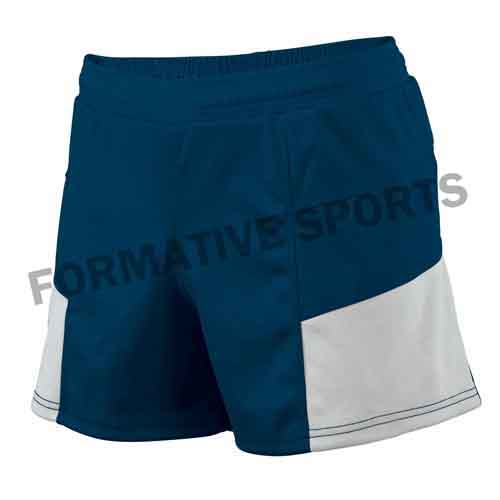 Cotton Rugby Shorts
Cotton Rugby Shorts Manufacturers – Get World Class Products
We are offering the awesome collection of rugby shorts. Our complete range is available in standard as well as in custom designs. The collection is available in the plethora of designs & shades. Pick up from the available designs of the catalogue or just provide us the specifications related to the designs. Our experienced designers will create an awesome collection for your team.
Formative Sports is renowned cotton rugby shorts manufacturers. Give your team the invincible looks. We create our collection with excellent quality fabric. This helps in providing full flexibility to the players. In addition to this, we have used advanced equipment of tailoring. This helps in providing seamless finishing to our products.
Custom Sublimated Cotton Rugby Shorts – Designs Meeting Your Demands
We use sublimation printing technology while creating our collection. In the sublimation technology, we use transferable paper while crafting patterns on the paper. The special ink is also employed in order to provide highly durable designs and patterns.
Cotton Rugby Team Shorts Suppliers & Exporters
Being accredited Cotton Rugby Shorts suppliers & exporters, we are offering global shipping of our products. Banking on our advanced manufacturing facility, we are capable of fulfilling bulk requirements of clients in stipulated time frame. The clients should contact us to get our products.
Features of Cotton Rugby Shorts:
Quality fabrics
Perfect fitting
Fine stitching
Available in various sizes
Vibrant colours