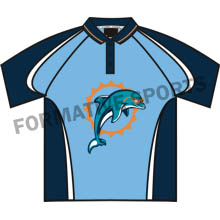 Sublimated Hockey Jersey
Formative Sports has been emerged itself as a leading Sublimated Hockey Manufacturer from Pakistan. We have wide varieties of hockey jersey that is worn players while playing on field hockey match. These kinds of sports uniforms are designed with logos, player's name and numbers.
With the help of our customized facilities, we are able to design these jerseys as per client's preferences. These are delivered by us in various sizes, designs and colours. All these are made in sublimated form so as to provide unmatched designs of jerseys to players. Accordingly, we are honoured as one amongst leading Manufacturers, Exporters and wholesale Sublimated Hockey Jersey Suppliers from Pakistan.
Features Of Sublimated Hockey Jersey
Worn by hockey players
Sweat absorbent
Sublimated designs
Breathable
Customized as per client's preferences
Latest collections
Available in various designs & sizes
Cool & comfortable