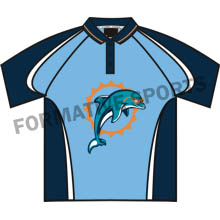 Sublimated hockey jerseys have become increasingly popular due to their high-quality Sublimated Hockey Jersey in USA. At Formative Sports, we specialize in manufacturing and supplying sublimated hockey jerseys for teams of all levels, from amateur to professional.
Sublimated Hockey Jersey Manufacturers in USA
The sublimation process involves infusing the ink directly into the fabric, which creates a permanent bond that won't peel or fade over time. Our Sublimated Hockey Jersey Manufacturers in USA are made using advanced printing technology that ensures vibrant colors, detailed graphics, and long-lasting durability. This means that your team's logos, designs, and colors will look great game after game, season after season.
Sublimation Hockey Team Jerseys Suppliers in Australia
Our experienced designers will work with you to create a unique and professional look that reflects your team's identity and sets you apart from the competition. We use high-quality materials for our Sublimation Hockey Team Jerseys Exporters in Australia, ensuring maximum comfort and performance on the ice. Our jerseys are designed to be lightweight and breathable, allowing for optimal movement and ventilation during the game. We offer a variety of sizes and styles to fit players of all ages and skill levels.