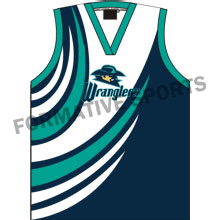 AFL Uniforms
Custom AFL Uniforms For Winners
Formative Sports is a comprehensive spot for complete range of sports uniforms. We design uniforms that are exclusively made for your team. We have a collection of standard as well as customized styles. These styles have a great impact on the looks and efficiency of gamers. An attractive and eye catching style will increase the confidence of the players which gradually results in better efficiency.
We have managed to win the customers and earn huge recognition in the market as leading AFL Team Uniform Suppliers and Exporters. We are counted amongst the top AFL Uniform Manufacturers from Pakistan. Our wide range of in house manufacturing facility is equipped with latest technology and qualified designers who aim to bring a perfect blend of comfort and support. We also rely on new ace machinery for cutting and stitching that helps in providing flawless finish to the end products.
We understand the needs of the players and do our best to comply with their needs. Every player, irrespective of their sports, wants to wear comfortable jerseys that support them to bring the best performance. Thus, keeping this in mind, we manufacture our special range of uniforms in premium grade polyester fabric. This fabric is the most comfortable choice for games clothing. The jersey provides flexibility to the players and have longer lifetime. They can easily be worn for one or two seasons.
The breathable fabric lets you relax and feel fresh even after hours of practice. Durability, Easy to wash and maintain, no smudging of print and color fading are some of the guaranteed features we offer you. You can get more information and insight to our products through our collection section. Get customized AFL uniform for you and your team right here with us.