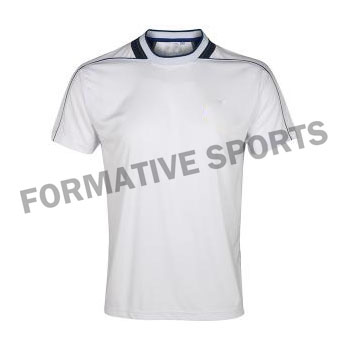 Cut And Sew T Shirts
Tailored Collection: Meeting Your Needs
We have vast experience in the manufacturing & supplying of the exception collection of t – shirts. Our wide array is available in comprehensive patterns & shades. Our designers have specially created the clothing range as per the latest fashion trends. These are perfect to offer wow look to the wearer.
Formative Sports is foremost Cut And Sew T Shirts manufacturers & suppliers. Our collection comprises of standard as well as custom designs. Pick either from the available standard range or just provide us your specific requirements. We will create the whole new range for you.
Directly Delivered from the Factory
We manufacture our collection at our factory which is fully loaded with cutting edge machinery. Our tailoring team utilizes propelled apparatus of cutting and sewing with a specific end goal to give perfect completing to the attire range. We have likewise utilized skin-accommodating fabric so as to give full solace and adaptability to the wearer. Our principle center is to furnish purchasers with incredible quality items. That is the reason, our quality upkeep cell tests our items all the time amid creation.
Custom Cut And Sew T Shirts Suppliers & Exporters
We are proud to announce us as the most notable custom Cut And Sew T Shirts Suppliers & Exporters. We are offering global shipping of our clothing range. The interested clients should contact us to get our range at most appealing prices.