Partner with Formative Sports to get the supply of quality jerseys at the most inexpensive rates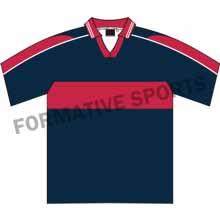 Are you looking for the best grade Hockey Uniform at the most reasonable rates? You might hold a notion that the top quality sporting uniforms are always extravagantly priced. Deal with Formative Sports to change this long-held notion. Offering the superlative quality sporting uniforms at the most competitive rates, this provider is now one of the most highly sought-after providers of sporting jerseys and shorts.
Get the jerseys directly from the manufacturers
Formative Sports is one of the major manufacturers of sporting uniforms, offering a massive portfolio of sporting uniforms that includes the hockey uniforms. Hence, dealing with the provider, you get directly supply of the sporting uniforms, escaping the intermediaries whose presence escalates the price. Hence, this provider is in a position to source to the best grade sporting uniforms at the most reasonable rates. This enables the buyers to win the deals on the aspect of product quality as well as the price.
You can avail various special deals and offers
Formative Sports keeps offering various special deals and schemes that will significantly downsize the price of the products, without any compromises on the aspect of product quality. These schemes enable the players to incur some significant savings on the purchase of the hockey uniform as well as jerseys for other sports. This provider offers wholesale rates that fetch significant financial benefit to the buyers.
The ability to source quality products at modest rates has been one of the major factors beyond the popularity of this provider. Sporting uniforms are matters of daily utility to the sportsmen and hence, getting the supply of quality products at inexpensive rates comes as a great benefit to these flocks. No wonder, in instances one look for best quality hokey uniform or jerseys for other sports, Formative Sports is the first name that flashes upon their minds.